Welcome to the Hotel Ishwarya A/C
Ishwarya Lodge is a peaceful and exclusive place adjacent to Lord Ramanatha Swamy Temple. We are one of the best lodge and hotel in rameswaram and ramanathapuram too. It features rooms which are Single, Double, Deluxe, Double Suite with Airconditioned or without Airconditioned. Every room equipped with en-suite bathrooms with stunning views, including hot and cold running water, and showers and particularly no more power cuts. We provide 24 hrs uninterrupted power supply to our guests. Each luxury room is nestled on a private piece of the lodge's property, enabling guests to enjoy the tranquil environment in complete seclusion. Placed in varied settings, every room is situated in a nice atmosphere that enriches the devotees with devotion.In appreciation of our guest, Lodge is an environmentally friendly accommodation. The buildings are constructed in such a way as to melt landscape around them. Electricity, hot water, and water pumps are powered by 24hrs power energy and there is a natural water catchment system to take advantage of the rains.
What we offer
The main reception area is equiped with WIFI connectivity with Internet access for our guest. All national and local dailies have been given. Pickup and Travel Desk provides sight seeing, Temple dharshan guidance and transportation with nominal charges.

Food Service

Room Service

Laundry Service
Doctor On Call

Locker Facility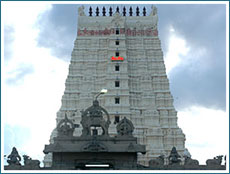 The temple and the island of Rameswaram have acquired this name because, Lord Rama worshipped Lord Shiva, the God of Gods here on return from Sri Lanka. According to legend, after killing Ravana Lord Rama returned with his consort Goddess Seetha to India first stepping on the shores of Rameswaram. To expiate the "dosha" of killing a brahmin, Lord Rama wanted to offer worship to Lord Shiva. Since there was no shrine in the island had despatched Sri Hauman to Kailash to bring an idol of Lord Shiva.